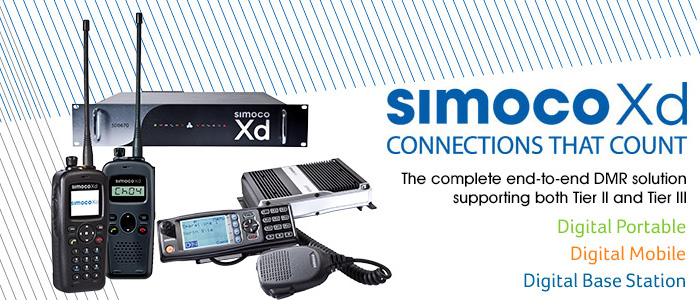 Pointon Communications is proud to offer Simoco radio products. Simoco is a world leader in (Digital Mobile Radio) DMR radios and infrastructure. DMR increases user capacity on without adding frequencies to the license. Simoco offers Tier II and Tier III infrastructure and radios.
Simoco Xd
Simoco Xd builds on our previous generations of radio systems adding the benefits of the digital air interface provided by the DMR standard:
Increased call capacity – DMR uses 2-slot TDMA (Time Division Multiple Access) to double the number of calls supported on each radio channel, giving you twice the calling capacity as an analogue system in available spectrum, without the need for combining.
Clearer audio – DMR provides clear speech right to the boundaries of reception even in environments with high background noise.
Lower power consumption – DMR terminals only transmit for half of the time, which gives an increased battery life of about 40% over FDMA and analogue technologies, providing significant power savings and longer work shifts.
Integrated data applications – DMR brings greater capacity for messaging and data applications, enabling alerting, tracking, telemetry, monitoring and many more applications natively within the radio system.
Expandability – open interfaces are available for dispatch and other applications, plus multiple digital inputs and outputs are available on portables, mobiles and base stations allowing for the creation of a system tailored to specific needs.
Open marketplace – Simoco's truly interoperable digital products protect the purchaser from single supplier lock-in. Simoco is fully DMR standards compliant enabling support of a mixture of manufacturer's equipment through open standard air interfaces.
Simoco Xtend
Xtend links together up to 15 Simoco DMR base stations to form a low-cost, wide area digital communications network. The facility to operate in either Analogue or Digital mode enables new and legacy technologies to share the system and permits a staged migration of user groups to DMR. IP connectivity allows rapid, no-hassle deployment using standard communications networks.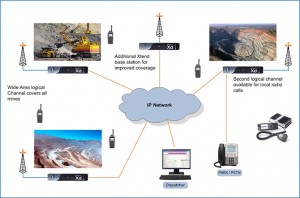 Wide area DMR Tier II operation
Each Base Station connects with up to 8 others
Functionality delivered over IP network
Analogue, Digital or Automatic modes
Range of deployment options to suit user requirements
Simoco Radio Durability Testing